Unlike the previous Windows versions, Microsoft's latest operating system, Windows 8 combines all three methods of installation into one superior web-based setup which is able to overpower all of the traditional setup application methods of its predecessors. If you are thinking to do a clean install, upgrade or if you're planning to migrate your files from your old OS down to Windows 8, this web installer can do all of it more efficiently than ever before.
Windows Installer Then, and Now
To learn more of why the web-base is a superior one, you first need to consider how you used to install the older Windows versions and how it can still be done in the new web-based installer plus some more features and changes all geared towards improving the whole user experience.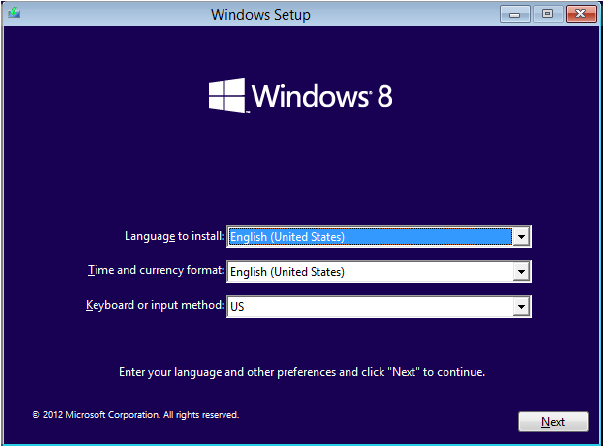 For instance, the past versions of Windows like Windows 7 were somewhat made for business and PC makers though it can also be used by end-users or those individuals who want to manually install Windows into their computers. In Windows 8, some details of the installer looks the same except for the color of the background. The out-of the-box experience that users would have has not changed that much since Windows 7 however, the addition of some touch-enabled aspects to the setup itself make the steps a bit shorter than before.
Traditionally in previous Windows versions, a user was required to first download the installer file from the Internet which is a bulky one reaching up to 5GB the most. This was a tedious task especially if your Internet connection is relatively slow.
If you're lucky to have  a fast connection, the next problem would be burning the ISO file to a disk or a USB flashdrive so you can finally use it in installing Windows to your machine. Whether you are trying to reinstall Windows for the purpose of an upgrade or you'd like to do a clean install, you'll be having a big chance of getting problems in compatibility especially if you try to migrate of your files or your computer already has loads of file in it which are not that compatible to the version of Windows that you'll be upgrading to.
Another thing that you'll encounter and might get problems with is the product key- a set of 25 letter and number combination which is included with each installer DVD or download. This key is required to be entered at one part of the setup process.
After entering the product key, you'll be required to enter some other information about yourself and some other things that you want to set for your computer like its name and what type of computer it is. After Windows finally gets installed, the system will then alert you to activate your operating system.
This process will now require you to connect to the Internet so you need to make sure that your adapter driver is updated so you can proceed on with the step. If the driver is not updated and you can't connect to the Internet, you need to use the drivers disk included with your computer when you bought it or download the driver from your computer manufacturer's website using another machine that can connect to the Internet. Once you get the driver, be sure to copy it on a USB flashdrive and install it on your computer so it can finally connect to the network.
Improvements in Windows 8
In Windows 8, the installer still looks the same however, some aspects are now built-in with the setup process to make everything easier. The web-based installer has also been improved and is made in a such a way that it can easily be downloaded in no time. Windows 8's WIM (Windows Imaging) installer format is far more efficient in terms of streaming and downloading speeds compared to the  ISO format of the previous Windows versions so if you are tired of installing or upgrading Windows using the burn- reboot and install process that you once did in Windows 7 then you need to try using Windows 8's new web-based installer.
Product Key Bypassed
Yes! Another great improvement that has been added to the new web-based installer is about the product key. Traditionally, the product key is always required to be entered whenever you install Windows to a computer but in Windows 8, this important aspect is already built-in with the installer so you won't be worried of committing mistakes when entering it or putting on your glasses just to see the characters clearly. All you need to do is enter all the information that you wish to set for your machine.
Possible Reasons of Using the Old-Fashioned Installer
In some cases, you might need to install Windows 8 the traditional way. This happens often to enthusiasts who purchase their own computer or build one using custom parts. This types of machine doesn't have a Windows operating system preinstalled with it so the best thing to do is but an disk installer and bring the machine alive using the process that you used to do back in Windows 8. This won't be a problem anyway since Windows 8 is also capable of being installed using the disk installer during the computer's boot up process however, this would also mean that you need to manually find the drivers for some of the hardware that you used in order for your machine to function smoothly.
Another reason is when your computer gets a lot slower than it used to behave back when it was new. Slowing down is a common sign of data accumulation and other problems such as malware and viruses and if you already tried all the available options in solving the problem but it still persists, you'll need to do a clean install but instead of turning off your computer and changing the boot order, all you need to do is use the new feature called "Push Button Reset". If you still don't know how this is done, our next tutorial will tackle more about it so be sure to read it to learn more about the process.
What's Next?
Now that you learned the the differences between the traditional and the new web-based installer, it's about time that you learn how to install Windows 8 using the latter. The process would be somewhat different especially if you've been used to the previous Windows versions but you'll surely be able to learn how to use it in no time so be sure to prepare your machine and be ready to purchase the version of Windows 8 that you want to install on your computer.
Are you having problems with your Windows machine? If you do then please don't hesitate to let us know simply by posting it as comments on any of our tutorials that you've read and we will do our best to help you solve it. To learn more of Microsoft's latest operating system, be sure to read more of our tips and tutorials. You can also get our latest tips straight to your inbox simply by inputting your email on our homepage.