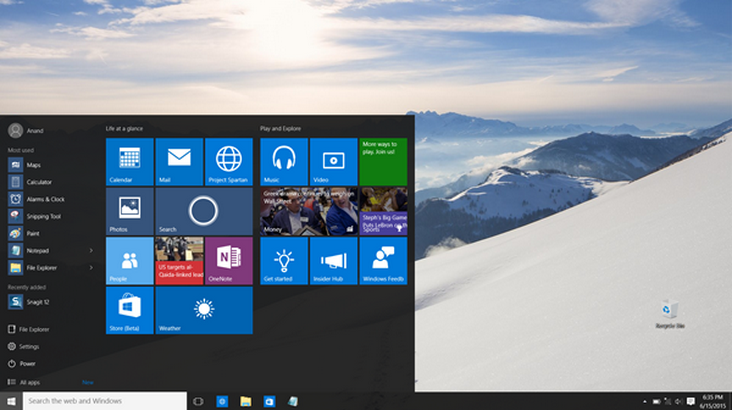 Earlier this month, Microsoft has started rolling out updates that enabled the "Get Windows 10" app icon to appear on the System Tray section of the taskbar and has formally announced that the new Windows 10 operating system will finally be released on the 29th of July. Since this new Windows 10 version is already just around the corners, we thought of writing a guide that will bear answers to the most common questions that users ask about this Windows operating system version so just go on and read this article to find some answers to some of the Windows 10 questions that has been bothering you these past days.
What is Windows 10?
Long time Windows users understand that Microsoft releases a new version of Windows after a certain number of years which is why there has been Windows XP, Vista and Windows 7 as well as Windows 8 and Windows 8.1 and now, in the year 2015, they are scheduled to release the newest version of their flagship operating system which is called Windows 10 also known in many tech-circles as "The Best Windows Yet".
Windows 10 is going to be a "device lifetime service" and with this, Microsoft means that they will continue to provide upgrades and other updates for as long as a consumer is using a device that runs the Windows 10 operating system. Finally, the company is now making Windows 10 as a service which is a good way of avoiding the "Update and Patch Tuesdays" which happened in all of the previous Windows versions.
When Will Windows 10 be Released?
This brand new Windows OS is going to be released by as Microsoft has announced in their big announcement event held earlier this year and finally just over a week ago, the company has formally announced that the Windows 10 Home and Pro consumer versions will be released on the 29th of July 2015. On the other hand, the Enterprise version's release date has not yet been announced by Microsoft but many speculate that it's going to be out before the year ends. The upgrade to Windows 10 which is offered for free is going to be a one-time offer since the operating system will also be the last one from Microsoft.
What Brand New Features are Found in Windows 10?
There are numerous new features to watch out for in Windows 10. For instance, since the Internet Explorer browser ha already been phased-out, a new browser is built-in with it which is called Microsoft Edge and is said to be faster than Google Chrome. You will also find Windows Hello and a new Virtual Desktop Feature. The brand new stuff that you will find in this Windows version will also depend on the device that you are using.
The Start Menu which has been missed by many because of its removal from Windows 8 and Windows 8.1 will also make a comeback in Windows 10 and it has been made even better. A new virtual assistant named Cortana will also be available in this Windows OS version.
If you are planning to use an Enterprise version for your business, some of the new features that are found in Windows 10 Enterprise are Device Guard, Enterprise Data Protection and Antimalware Scan Interface which will make sure that malware is contained at any situation. However, in the Home edition of Windows 10, the Windows Media Center feature has been permanently removed.
Who's Eligible to Get the Upgrade?
Since Microsoft's formal announcement that Windows 10 is going to be offered as a FREE upgrade to Windows users, they have made it clear that there are restrictions. Only users who have Windows 7 SP1 and Windows 8.1 PCs and laptops will be able to get the FREE Upgrade. For mobile users, those who have Windows Phone 8.1 will also be eligible to get Windows 10 for FREE. Those who are running non-genuine versions of Windows 7 SP1 and Windows 8.1 will also be eligible to get the upgrade but the state of their Windows product will remain as non-genuine even after they have upgraded to Windows 10.
The Windows OS versions that are not eligible are Windows 7 and Windows 8.1 Enterprise, Windows Starter Packs and RT versions as well as Windows XP and Windows Vista.
What Versions of Windows 10 are Going to be Offered
There are 7 Windows 10 editions that are going to be offered though one of these 7 will be embedded in small devices so it makes 6 editions that can be installed in computers, smartphones and tablets. These versions are given below.
For PCs, laptops and hybrid devices:
1. Windows 10 Home
2. Windows 10 Professional
3. Windows 10 Education
4. Windows 10 Enterprise
For mobile devices:
5. Windows 10 Mobile
6. Windows 10 Mobile Enterprise
For other smaller devices:
7. Windows 10 IoT (the version of Windows 10 that is going to be embedded in things/smaller devices. IoT means "Internet of Things").
Can Windows 10 be Clean Installed to Other Devices after Free Upgrade?
If you choose to get the FREE upgrade, you will need to do it from your older Windows installation that is eligible to get the upgrade (Windows 7 SP1 and Windows 8.1) instead of doing a clean install. Microsoft has made this clear during their announcement of the FREE Windows 10 Upgrade and this move is mainly because of the free lifetime updates that will be provided by the company.
This means that Microsoft needs your device ID in order to sort out which updates should be sent to you when you are already on Windows 10 and doing a clean install instead of an upgrade from an existing eligible version of Windows will prevent Microsoft from getting information about your device.
Once your device ID has already been registered with Microsoft, you will then be able to get a clean install of Windows 10 on the same computer but you can't load the same Windows 10 OS to other devices. It will be unique to that one computer that you have upgraded to Windows 10. You can clean install the OS to the same computer many times but loading it to other machines will be impossible since Microsoft already has your device ID linked to that Windows 10 installation which validates if the OS is really for the new device or not.
Which Windows 10 Edition Will You be Able to Get Free Upgrade For?
The Windows 10 version that is going to be installed into your computer if you are currently using Windows 7 Home or Windows 8.1 Home is Windows 10 Home. If you are currently using a Pro version, the FREE Upgrade that you will get is Windows 10 Professional. If you wish to upgrade from Windows 10 Home to Windows 10 Professional, you will need to pay $99.
If your current Windows 7 SP1 or Windows 8.1 OS is in 32-bit system type, you will also get a Windows 10 32-bit system type OS after the upgrade and if you're on a 64-bit eligible Windows operating system, you will be able to get a 64-bit system type Windows 10 version after your computer is upgraded.
How Much Does Each Edition Cost?
Different Windows 10 editions will be for sale after a year of the FREE Upgrade offer and the prices of each edition are as follows:
Windows 10 Home– $119
Windows 10 Professional– $199
Upgrade from Windows 10 Home to Pro– $99
Bulk licensing price is negotiable with Microsoft
The upgrade prices for the mobile versions of Windows 10 is still not available as of writing this article.
What are the System Requirements?
If your computer was able to run Windows 8.1 then Windows 10 is going to run in it without major problems. If your Windows 8.1 computer has been upgraded from Windows 7 SP1 then there is no problem at all even if you move back to the latter then choose to get the FREE upgrade to Windows 10.
You can also check for compatibility issues using the Get Windows 10 app and if you are using a genuine version of Windows 7 SP 1 or Windows 8.1 that is loaded with all the latest Windows Updates then you should have this app icon on the System Tray section of your taskbar. To learn how to use it, you can read our previous article that shows the steps on how the app works. RAM specification is 1GB for Windows 10 32-bit and 2GB for Windows 10 64-bit.