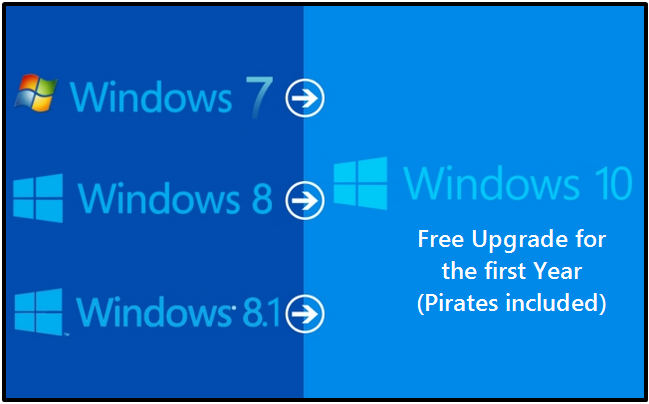 The year 2015 seems to be one that will mark some big changes for Microsoft and if the company is really true to its words, it's gonna be a bunch of positive changes for the Windows operating system and all of their other products that use this software as its main driving system.
The past three years wasn't as smooth as the others that preceded it for Microsoft's flagship operating system better known as Windows. This is largely because of the big changes that were made to the Windows 8 operating system and its supposed improved version called Windows 8.1.
Combining the mobile and PC environments is actually a good idea but the way Microsoft executed this in the 8 and 8.1 versions of Windows wasn't as good as they are supposed to be. This flaw in the design of both operating systems becomes more evident when all of the complaints and negative comments from loyal Windows users are placed into consideration.
From 2012 down to the present, users who have opted to upgrade to the Windows 8 and eventually to Windows 8.1 have really suffered much disappointment and confusion in using the operating system. While there are others who are expressing positive feedbacks, their number is still very small compared to the majority of users who really want most of the features in older Windows versions to be put back to the latest Windows OS version available at present.
But finally after almost 3 years of waiting, Microsoft is now setting the stage for the release of Windows 10, the newest breed of operating system which the company designed while considering all the feedbacks and suggestions provided by testers, developers and other experts from all around the world through the Windows Insider Program.
Microsoft's Long Awaited Response is at the Doors!
With the tech giant's most recent announcement that the release of Windows 10 is going to happen this summer, their much anticipated response that will  finally resolve all of the issues in the two OS versions named Windows 8 and Windows 8.1 is just weeks away from becoming a reality and users are eagerly waiting for it!
However, this announcement was also coupled by a slightly sad news about the phasing out of the built-in Internet Explorer browser in the upcoming Windows 10 build. It really isn't much of a bad news to those who are not using Internet Explorer in their browsing routines but to those who have made it as their partner in surfing the web, the time to install a new browser has finally come.
A Free Windows Version?
One of the headline makers that really rocked the technology industry and even the stock market last January is Microsoft's announcement that the new Windows 10 build is going to be given out for free!
Yes! You heard it right! Microsoft is really going to give out their latest operating system version as a free update/upgrade to all users who are using Windows 7, Windows 8 and Windows 8.1 computers as well as those who own a mobile device that runs on Windows Phone 8.1.
Many analysts were really puzzled by this weird announcement  which sounded like a joke because the company itself drew much of its revenue from selling their latest OS builds but needless to say, Microsoft was really serious with this move making it a lot more credible by having its top executives announce the everything during the big event that happened two months ago.
So What Will Happen to Windows 8.1?
Because of this free offering from the makers of the world's most popular computer operating system. It is expected that almost all of the users who are eligible to get the update/upgrade to Windows 10 would surely get it installed into their computers on the day that it gets formally released or even in the days after.
While this is happening, Windows 8.1 will still continue to be supported in case there are others who don't really know how the process of installing Windows 10 is done and it will still work in the coming years.
However, users are still encouraged to install the update within a year after its formal release since it is only available as a free update for exactly one year and will cease from being offered for free in the years after that. Whether or not the upgrade/update to Windows 10 would be installed on a computer really just depends on the user himself but with all the better features that are included in Windows 10 coupled by the company's good will to really offer it for free, it would almost be impossible for anyone not to accept and install this latest OS version.
Free Even for Pirated Windows Versions?
While studying the big move that they are about to make in offering Windows 10 for free, Microsoft has identified that a vast majority of the Windows operating systems which are out at present are pirated especially in some Asian regions predominantly in China.
For this reason, Microsoft has announced this week that they are extending the free Windows 10 update/upgrade even to customers who are running a pirated version of Windows! Now this means that the fear of being penalized for software counterfeiting is temporarily on the halt while the tech giant is trying to put things into perspective as they strive to reach a long term vision to rule both the computer and mobile device industries.
So What's Next For My Old Computer?
If you own a Windows 7 computer then it should work smoothly with Windows 8, Windows 8.1 and will still work even if you install Windows 10 to it. This is one of the attributes that most of the modern Windows editions have which are truly awesome!
You don't have to buy a new computer that can handle the new OS versions because your old machine can still run with it without having problems in terms of compatibility and other software-related aspects.
If you're still on Windows Vista then you will to first try to upgrade into Windows 7 and once the latter works perfectly fine, you can jump right away to Windows 10 and install it by taking advantage of the free upgrade.
For Windows XP users, there might be some problems with processor and RAM so if it is a desktop PC that you wish to load Windows 10 into then simply upgrade these hardware, install Windows 7 to it and when everything works great then just install the Windows 10 upgrade right away.
A Bigger and Better Windows is on its Way!
With the release of Windows 10 coming near, users and even experts are expecting some great changes in how devices collaborate with each other and how they interact with the Internet of things environment.
Game and app developers have also confirmed their interest to contribute to the contents of the Windows Store once Windows 10 gets released and even mobile device manufacturers like Lenovo have also sounded off their plan to release phones and other mobile devices that can accommodate Windows 10 as soon as the update/upgrade becomes available.