Microsoft promised a better Windows when they announced the upcoming release of Windows 10 January of this year and it has since left users around the world very excited! However, before it gets formally released it has already been made available since the last quarter of 2014 to Windows Insiders and testers who want to shape the new Windows into the best one ever!
So what exactly makes Windows 10 better or even the best Windows OS ever? We've already pointed out three brand new features in it that would support this claim in our previous article but the list does not end there yet. There are still even more stuff in this brand new Windows operating system that have been made available to make everything a lot easier to use and help users become even more productive in many ways without getting lost in the combined Desktop and Mobile environments that started in the previous versions Windows 8 and Windows 8.1.
Though we only have the Technical Release right now, we have already found a lot of improvements and innovations in this brand new Windows OS release that really makes it stand out from all the others. Microsoft has indeed been listening to all the complaints and negative comments that users have been flooding to both Windows 8 and Windows 8.1 and all of these combined with all the feedback and suggestions that they get from Windows Insiders and testers have made some significant improvements in the upcoming Windows 10 release!
So let's take a look at even more of these features as a continuation of the three that we have shown in the first part of this article. While Windows 10 is still to be released a few days from now, you can already have a quick glimpse at most of its features in its Technical Release so join us as we expose these features for everyone's consumption.
4. The New Start Menu!
A lot of users who have been loyal to Windows were enraged with all the changes that were made to Windows 8 and Windows 8.1 and one of the top reasons for this is the missing Start Menu and its getting replaced by a confusing feature that represents the mobile environment called the Start Screen.
This time in the new Windows 10, Microsoft did a great job in bringing back the all-time favorite Start Menu while maintaining their stand of combining the PC and mobile worlds together in one innovative operating system.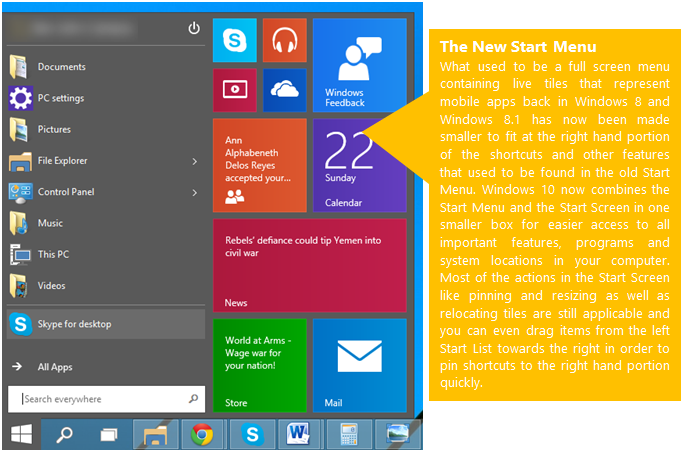 Yes! After almost 3 years of waiting, Windows users can now get to use the Start Menu again in Windows 10 but for those who prefer to use the Start Screen, they can still do so by changing the default settings according to their preference as detailed in our previous tutorial in switching from the new Start Menu to the old Start Screen and back.
5. Search and Power Buttons Placed in Better Locations
In Window 8.1, the power and search buttons were both located at the top right portion of the Start Screen which is an unlikely place to put two important buttons on but in Windows 10, they were separated and a "Search" icon can now be found permanently pinned on the taskbar. Though the search feature is found almost everywhere within the Windows system, putting a button on the taskbar for this very important feature will really make searching for files, programs as well as system locations a lot easier to do and you can even search the web using this same button.

The Power Button has also found a better place that's easier to access and was moved to the top of the new Start Menu in between the right section called the Start List and the left section which contains the tiles which represent the modern apps as highlighted on the screenshot below.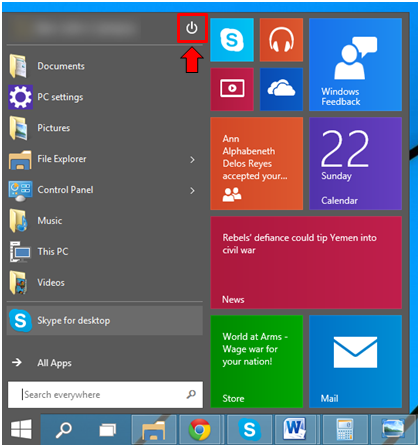 While these buttons and functions are also available in other locations of the Windows 10 operating system, Microsoft's initiative to place them somewhere that is easy to spot for anyone especially the novice users would really have a great impact in terms of productivity and maintain familiarity to others who have been using older Windows versions like Vista and Windows 7 for a long time.
6. Options for Modern Apps Now Easier to Access
In Windows 8, modern apps or what are also known as mobile apps used to open in full screen and getting rid of them would take you a lot of clicking. When Windows 8.1 became available, a minimize and an exit button was added to the top-right portion of all modern app screens but accessing the options of each one of them were basically the same except for the right-click menu that appears which is a welcome change.
But this time in the new Windows 10 operating system, modern apps now open in real Windows. Yes! there's already a maximize, minimize and as well as an exit button located at the top-right portion of the screen and on the opposite side, you can access all available options for the app easily by clicking on the "…" icon.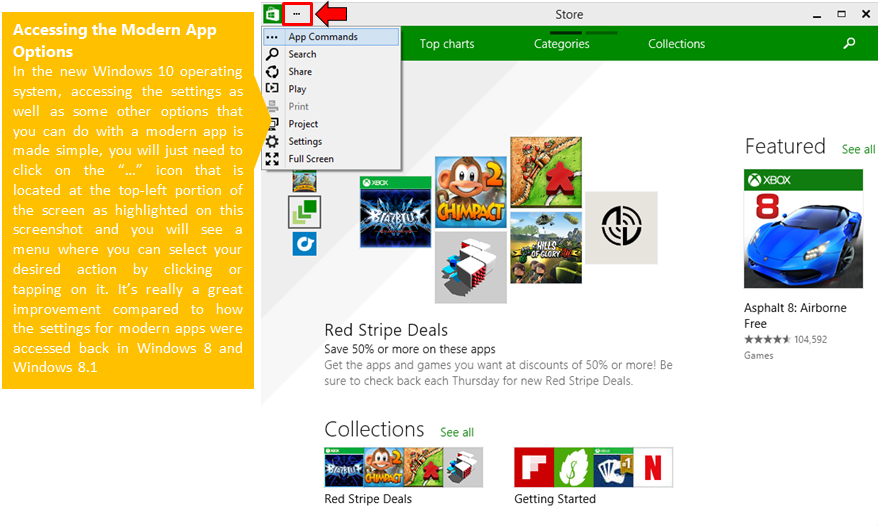 7. More Apps in the Windows Store
With Microsoft's promise to make Windows 10 the operating system that will rule all devices (PCs, laptops, tables and smartphones), a lot of software and game developers and even hardware and device manufacturers have also expressed their support by developing apps, programs and other software and as well as manufacture hardware and devices that would run in this new operating system platform.
With Microsoft's "Continuum" feature, users will also be able to switch between keyboard and touch modes especially on hybrid devices in a lot easier way using a dedicated button. Games that are offered in Android and other mobile device OS platforms like "League of Legends", "Clash of Clans" and many others will also be available in the Windows Store as soon as Windows 10 becomes available.
There's really a lot of exciting things to watch out for in the upcoming Windows 10 operating system edition and it won't be long from now until we would all be able to load it into our Windows machines and start enjoying everything that it has to offer!