Shortly after making the announcement that the best Windows operating system ever is going to be officially released this coming July 29, eligible Windows users started getting a small notification icon on the system tray of the Taskbar.
As the company had promised, they will be giving away Windows 10 as a free upgrade to all eligible Windows 7 and Windows 8.1 users. If you're one of those who received this notification in your Windows machine then you might have some questions on how it will work.
It this tutorial, we will be showing you what to do after receiving the Windows 10 Free Upgrade notification from Microsoft and as well as answer the questions that our readers sent us after receiving such unexpected notification that has started appearing in different computers worldwide.
Requirements for Getting the Free Windows 10 Upgrade
First of all, Microsoft has set some easy-to-meet specifications that will make a Windows user eligible to get the Free Windows 10 Upgrade. The company has phased out XP and Vista and has stopped providing mainstream support for Windows 7 though it can still be used without experiencing any problems.
In order to get your machine upgraded to Windows 10, here are two requirements that you need to meet and once you qualify, you'll get the Windows 10 notification app that will appear in the System Tray of the Taskbar.
Your computer must run the latest version of Windows 7 or Windows 8.1. Meaning, you need to have Windows 7 Service Pack 1 and your Windows 8.1 computer must be upgraded to the latest version by downloading the latest Windows updates and installing it into your machine. If you don't know yet how to view your computer's Windows OS version, you can read our tutorial that will guide you through the steps in doing so.
To get the Windows 10 Free Upgrade reserve app in your computer's System Tray, you will need to install all the latest Windows update especially the one that has a the "KB3035583" code. You don't need to worry much about installing this specific update for as long as your computer is set to always update to the latest version.
Checking if You're Eligible for Windows 10's Free Upgrade
Now, we come to the most exciting part of this tutorial. After making sure that your computer has met the two requirements that we have pointed out above, it should now have the "Get Windows 10" app installed to it. But how will you know if this app has already been installed? The answer is simple. Just look on your computer's System Tray (the extreme-right end of the Taskbar where the system icons are located) and once you see a new icon that looks like the one shown below, that means that you're all set to get your Free reservation of the new Windows 10 OS Upgrade!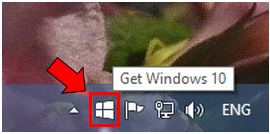 The Reservation Process
Reserving your free Windows 10 Upgrade is very simple and it doesn't require you to be an expert in order to have it done. To start, just click on the small icon of the "Get Windows 10" app that has already been installed into your computer after you installed the latest Windows Update. After clicking the icon, the app will open and show you the first slide giving the information on how the upgrade process works.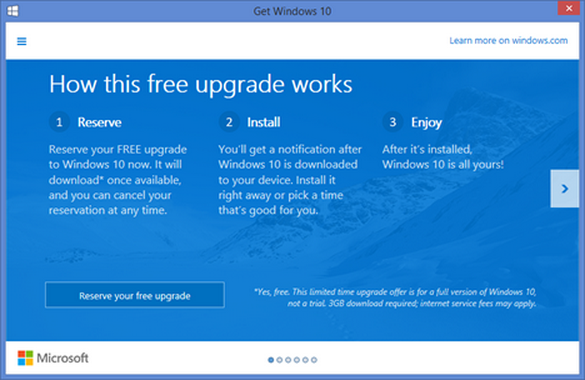 There are three steps to get Windows 10 and the first one is to reserve. If you're having a hard time reading the three steps as shown on the screenshot above then here are they:
1. Reserve
Reserve your FREE upgrade to Windows 10 now. It will download* once available, and you can cancel your reservation at any time.
2. Install
You'll get a notification after Windows 10 is downloaded to your device. Install it right away or pick a time that's good for you.
3. Enjoy
After it's installed, Windows 10 is all yours!
NOTE:
You might have noticed an asterisk "*" after the word "download*" in step 1. This means that there's a note about the word and there is something else that the word means. If you look towards the bottom-right portion of the Window, you'll find what the word "download*" additionally means and it says "*Yes, free. This limited time upgrade offer is for a full version of Windows 10, and not trial. 3GB download required; internet service fees may apply.".
Now, you may scroll towards all the remaining slides of the "Get Windows 10" app and you'll see that there is a "Reserve your free upgrade" button that you'll find on each one of them.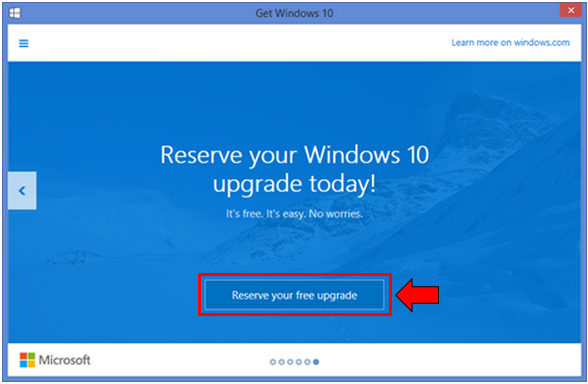 Clicking on this button will allow you to reserve your Free Windows 10 Upgrade which will start downloading once it becomes available on the 29th of July. The app will also let you register your email address so you can get a confirmation from Microsoft that your download has already been reserved.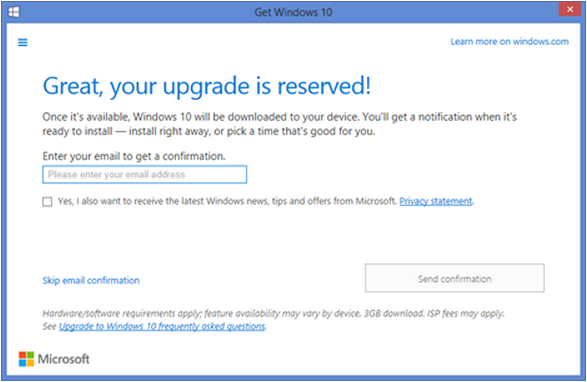 From here, you can choose to type in your email address into the box that is provided and check the option that says "Yes, I also want to receive the latest Windows news, tips and offers from Micrsoft." located just below the email address input box in case you want to be the first to know the latest about Windows. You can also just skip both entering your email and checking the option altogether by hitting the link that is located at the bottom-left portion which says "Skip email confirmation" if in case you don't like to get the confirmation email as well as all of the news and other stuff coming from Windows 10.
What's Next?
After entering your email and enabling the option that will allow you to get news and other updates from Windows (or after you skipped it), the "Get Windows 10" app will now show you a message that says "All done for now".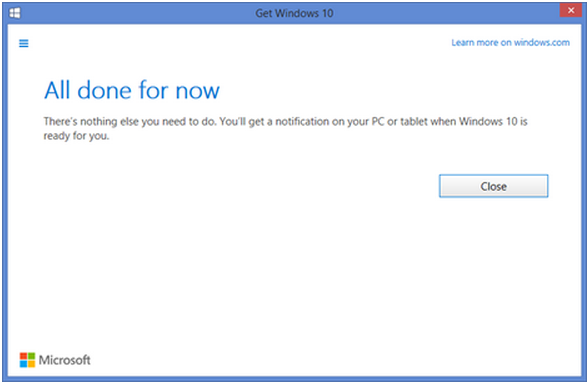 From here, you can just click on the "Close" button located towards the bottom-right portion of the slide and just continue on with what you have been doing in your computer prior to reserving your Free Windows 10 Upgrade.
Why Choose to Upgrade to Windows 10?
Microsoft has given plenty of reasons why users need to upgrade to Windows 8.1 and has even offered it even to those that are using illegal copies of Windows. Yes! Windows 10 is still free even to those who choose to use pirated Windows operating systems but that wouldn't change the state of their software. Meaning, if you're using a pirated copy of Windows, you'll still be able to upgrade to Windows 10 but your OS state would still be "pirated" or not genuine.
Windows 10 promises to offer the best Windows experience to all users and as Microsoft creates more and more innovations and include them in this Windows operating system version, you'll be left out of all the awesome stuff if you don't choose to get Windows 10 now.
The Free upgrade is also a time-limited offer and Microsoft has stated in earlier announcements that it will only be available as a Free upgrade for a year. It is therefore a must to really grab Windows 10 within this one year period so you'll never be left out of all the latest stuff that Microsoft is continually offering its users all over the world!