In a previous article, we discussed what a Library is and how you can create one on your Windows 7 machine. We also taught our readers how to add folders into the library and explained the advantages that they would get from using this valuable feature that is readily available on any Windows 7 machine provided you know how to set it up and how to start and get it going.
The Library feature on Windows 7 seeks to help you organize all of your computer's contents so they can easily be accessed anytime. However, you also need to further manage the contents that you put inside it so you can identify files and folders easily.  Failing to do this would cause more confusion on your part and if you created the Library for the purpose of keeping all your shared files then it will also be confusing to the other users who are allowed to access it on a Home network.
In this article, we will be teaching you how to sort the contents that you placed inside the library you created, how to do some tweaks on the properties and how you can delete the contents that you don't need any longer. If you missed the first article that we've posted about Windows 7 Library then we recommend that you read it first (What are Libraries and How You Can Create One) so you can have an idea of what this feature does but if you already did then you can go on and read through the rest of this article so you can learn how to manage your Windows 7 Libraries.
Sorting All Your Library Contents
The Library space has a lot to say about the different files that are inside the folders which you added to it. Each file in it are classified according to your personalized descriptions and characteristics and these are as follows:
Videos- Folder Name, Year, Total Length, Name
Pictures- Folder Name, Month, Day, Rating, Tag
Music- Folder Name, Album, Artist, Song, Rating, Genre
Documents- Folder, Author, Date Modified, Tags, Type, Name
These are the classifications and ways of how files are sorted and categorized inside libraries. If you wish to use any of these sorting methods, just open the library that you wish to organize and sort contents in then click on the button located just beside the "Arrange by:" link then  choose the arrangement criteria/sorting method that you wish to apply to all the items.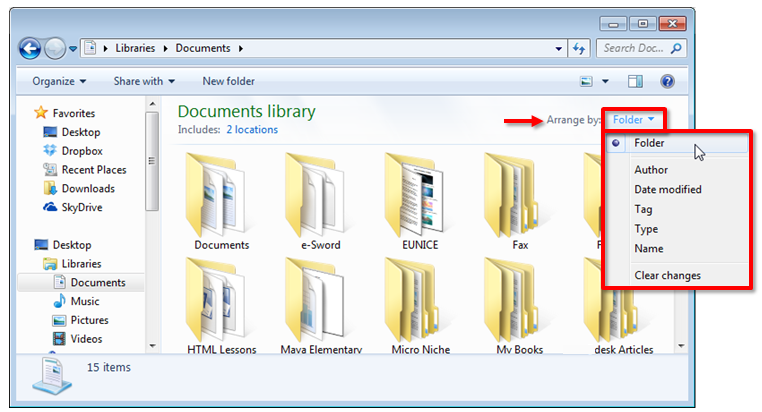 If in case you don't like one of the ratings given to a file or any other content and the tag that identifies it then you have the choice of changing it quickly anytime. To do this, you need to make sure that the "Details pane" is enabled. If you see that it's not, you can enable it by clicking on the "Organize" button at the top then put the mouse pointer on the "Layout" option then on the pop up menu, click on the "Details pane" item so it will have a check mark which means it is enabled.
The details pane is the section that you see at the bottom which contains the description of each item which you click on. From here, you can edit the "Genre", "Tags", "Rating" etc.
Editing the Properties of Your Library
The Library feature also allows you to do some tweaks deeper into its "Properties" section. To open the "Properties" of a certain library, all you need to do is put the mouse pointer on the name of the Library that you can see on the navigation pane of Windows Explorer then right-click on it and choose "Properties" from the pop-up right-click options that appears.
The items below are descriptions of all the Library Properties which are available to be customized on any Windows 7 machine:
Set save location- Allows you to select a location where all the files will be saved for a specific files and folders. This helps you be sure that all of the incoming files will be saved in a location where you can easily get them without searching for them which really takes too much time.
Include a folder– This button lets you choose whether to include a new folder and place it in the library. The "Remove" Properties option will remove the selected one from the Library you created.
Optimize this library for– This is somewhat a dropdown options which lets you do some tweaks in the way files are sorted within the library. From this Properties item, you can choose the type of files that you saved in the library then Windows Explorer would display tags and sorting fields which are relevant to the contents that is in the Library. The library's icon will also change and match whatever is in its contents.
Show in navigation pane– This aspect of the Properties section allows the library itself to be displayed on Windows Explorer's navigation pane located on the left side of the Windows. If this aspect is disabled, the "Libraries" item will not show on the navigation pane.
Shared– If you are familiar with the HomeGroup feature then this is where you can see if certain files and folders are shared to your Home network or not.
After changing some aspects of the Library, you can click on the "OK" button at the bottom but if in case you want to revert everything back to what it used to be before you made any changes, you just have to click on the "Restore Defaults" button and everything will be restored.
How Does Deleting Library Contents Work
Knowing how the "Delete" option works in any library is very useful. For instance, you should be aware that deleting a Library will not delete the contents and folders that you placed in it but if you delete a specific folder from the Library, it means that you will be deleting it completely from your hard drive (though it can still be restored from the Recycle Bin). As we pointed out in the first article that we posted about the Library feature, a library is just a virtual collection of your files and folders and deleting it will not affect the stuff which you stored in it. They will just remain in their original location and not be totally removed from your system even after the library you created is deleted.
To be able to delete a library, just go to "Windows Explorer", click on the "Libraries" item from the navigation pane located at the left side of the screen and choose the library which you want to delete. Once you find it, right-click on it and click the "Delete" option.
That's it! You now learned how to manage the Libraries that you have on your Windows 7 computer. You can create as many libraries as you like according to your need. Putting some related stuff inside one location like a library really helps save time and improves productivity. If you know of other tips about managing libraries or you are having problems setting up your first one please feel free to post it as comments for this article. We will do our best to address your concern and hopefully provide the solution that we know regarding the problem.