Many of us who are using a genuine Windows operating system installed on our computers have surely celebrated Microsoft's announcement of giving out Windows 10 as a free upgrade but confusion has been widespread about the scope of this offer. In this article, we will be discussing the terms of Microsoft's free Windows 10 offers and make things clearer to those who are still confused.
I Have the Get Windows 10 App on My System Tray, What Should I Do?
Shortly after Microsoft made the announcement that Windows 10 is going to be released on the 29th of July this year, numerous Windows users have reported seeing the "Get Windows 10" app icon on their machine's "System Trays" (the extreme-right end of the taskbar) after installing Windows updates. The icon looks like the one shown below.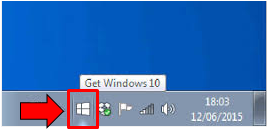 Now, if you see the same icon on your machine's system tray and you want to get Windows 10 when it finally becomes available on the 29th of July then you will need to reserve your free upgrade using the app. However, if you don't want to get Windows 10 and just want to keep using your current Windows operating system then you can just ignore the app icon, hide it or even permanently remove it from the System Tray if you feel a little bit annoyed of seeing it.
What Does the Get Windows 10 App Icon Mean?
Now, for those of you who are asking what the Get Windows 10 app icon is for then we have already shown what it does above. It is automatically installed to your computer after the right Windows Update that contains it is downloaded and installed to your machine. You can learn more about the app by launching it and you can use it to reserve your Windows 10 FREE Upgrade once it becomes available. The app's main Window looks like the one shown on the screenshot below.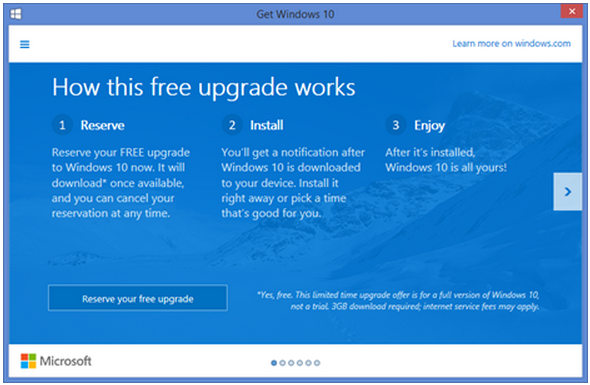 Having the "Get Windows 10" app icon on the System Tray of your computer means that the version of Windows that is installed on your computer is eligible to get the FREE Windows 10 Upgrade. Windows 10-eligible Windows operating system editions include Windows 7 Service Pack 1 (SP1), Windows 8.1 and in smartphone devices, Windows Phone 8.1 can also get the FREE Windows 10 Upgrade.
Is the FREE Upgrade Real?
Microsoft has officially announced the FREE Windows 10 Upgrade offer early this year and confirmed it even more when they started rolling out the "Get Windows 10" app early last month. The FREE Upgrade is real and the offer is going to run for 1 year after Windows 10 gets officially released.

The upgrade is going to be available to Windows 7 SP1 and Windows 8.1 operating system users. If you are using Windows 8, you will first need to upgrade to Windows 8.1 and afterwards, you can get the Windows 10 Upgrade for FREE. If you are using Windows 7 SP1 or Windows 8.1 on your computer but you don't see the "Get Windows 10" app icon on the System Tray yet, simply install all available Windows Update and you should be able to see the app icon after your computer boots up once again.
NOTE:
Installing all current update that is available on your Windows machine might not install the "Get Windows 10" app, if you don't see the app icon on the system tray after your first update installation and reboot process, it means that the update responsible in installing the Get Windows 10 app has not been loaded and installed to your computer yet. To get it, simply get more recent updates through the Windows Update feature on your computer and all important once afterwards.
It is also best that you leave Windows to update automatically so you can get all of the needed stuff that will install the latest features that Microsoft has included in the latest Windows Updates. Most updates actually contain security patches and other important stuff that will improve your computer's performance or install the latest features that Microsoft has developed for your operating system version.
What Windows 10 Version/s are FREE?
Just like any other Windows operating system that were released in the past, Windows 10 will also have different versions that are tailored to the varied needs of customers. For instance, there will be a Windows 10 Home, Pro, Enterprise and many others. The question is which of these versions will be given for FREE?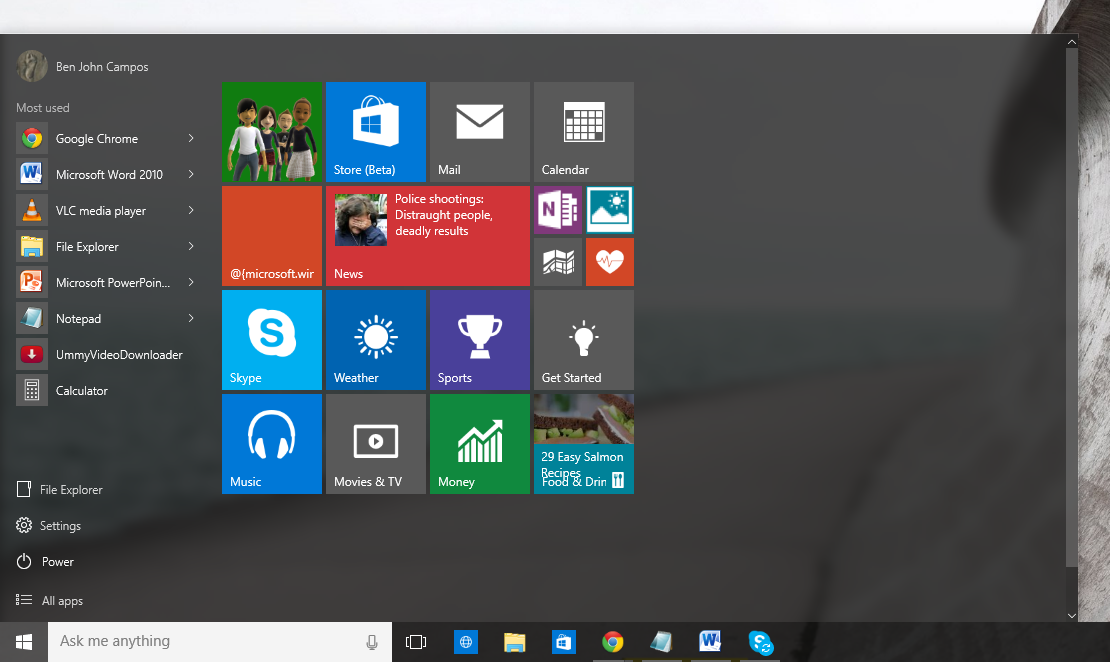 Microsoft's straight answer is the Windows 10 Home version. Yes! it is the consumer version of Windows 10 that you will get once you choose to do the FREE Upgrade. This means that the Enterprise/Business version of Windows 10 is going to be for sale and if a Windows 10 Home version user wishes to upgrade to Windows 10 Pro, there will be a $99 charge for the upgrade. To find more answers about Windows 10's FREE Upgrade, you can read our article about "Windows 10 Frequently Asked Questions".
FREE Even to Pirated Windows Users?
One of the biggest issues about the Windows 10 FREE Upgrade offer is that Microsoft is willing to give it even to those who are using pirated versions of Windows! The company has made it clear that they really want everyone to use Windows 10 and this move is one of their ways of convincing those "everyone" that's all-encompassing which includes pirates!
The FREE Windows 10 Upgrade announcement has rocked even the stock market and when Microsoft added that they are giving Windows 10 for FREE even to pirates, tech circles and even IT experts were surprised! The bottom line is that Microsoft is really taking the FREE offer seriously and has even expanded its scope even to pirates. This shows the company's strong desire to really get everyone to use Windows 10 on the first ear after it is released!
Some Vague Points of the FREE Windows 10 Upgrade Offer!
Microsoft has only made announcements which are quite general in scope. For instance, they only said that pirates are going to be included in the FREE Upgrade offer but did not mention exactly what would happen after that. What if major updates become available? Will pirates still enjoy it? Well, the point that's been made clear is that their license state will remain to be "not genuine" even after the upgrade.
With this, it's becoming clear that Microsoft is really on the process of baiting all users to get the FREE Windows 10 Upgrade so they can start selling Microsoft services and other products and boost profit. If you're on Windows 10, you will likely get Windows Office, Azure, OneDrive and many others and be willing to pay for them.
Windows 10 for FREE! Will it Really Work?
As you can see, the FREE Windows 10 offering us real and it's going out this 29th of July but the question is how many users are really going for it? Will this FREE Windows 10 Upgrade work in enticing current users to getting this brand new Windows version dubbed as the "Best Windows Yet"? What do you think? Have you already signed up for the FREE Windows 10 Upgrade reservation? We would like to hear from you from the comments section below!